I just found out that
I'm one of the winners
of low-carb blogger Amy Dungan's drawing for a FREE box of the brand new natural no-calorie sweetener
Truvía
.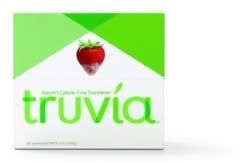 This is especially awesome, since the sweetener is not yet available in stores (it can only be ordered from their website), and I'm so finicky about non-sugar sweeteners that I was reluctant to spend money on an order with shipping costs.
In her review
of Truvía, Amy called it "I-could-eat-it-straight-out-of-the-package-good," so I'm totally excited to try it.
Check out Amy's blog
Healthy Low-Carb Living
for more info on Truvía and for a great resource for low-carbing.