I'm totally lazy when it comes to cooking meals, so I tend to eat a lot of quick stir-frys made with frozen vegetables and chicken or steak you can buy already pre-cooked. Heat some oil in a skillet, throw in the veggies and meat, add some garlic powder, a few red pepper flakes, sesame seeds, and maybe a little bit of soy sauce, and that's it. It's not gourmet, but it's really quick, easy, and yummy. And, depending on which frozen vegetable mix I use (I usually allow some carrots and a few peas despite their starchiness), a big serving is always less than 10 carbs.
I was in the mood for one of these easy stir-frys the other day when I remembered I had a head of cabbage in the fridge. It only added a couple of extra minutes to my "ccoking" time to wash and half the cabbage, remove the flimsy leaves, and find some nice, firm bowl-shaped leaves in the center perfect for filling up with my chicken and veggies.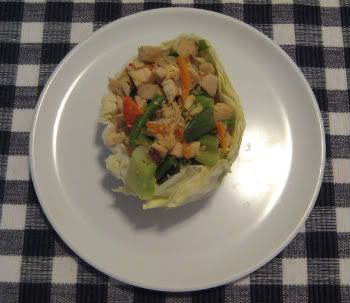 The result was a deliciously crisp lunch I could hold in my hand and munch on while I watched TV. I kept a fork handy in case of spillage, but it turns out I didn't even need it.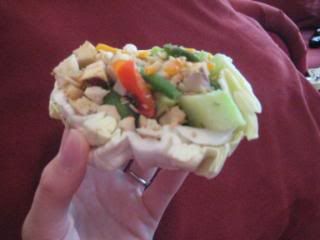 I use
Oscar Meyer's Grilled Chicken Breast Strips
, by the way, and I dice it up to make it easier to eat. The Oscar Meyer is much more tender than Tyson's version, which always seems kind of slimy and unappetizing to me. I like
Tyson's pre-cooked steak strips
just fine, though.