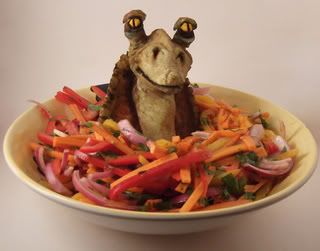 A blogger at OnlyKnives.com created this
Jar Jar Binks Salad
, sculpting Jar Jar's head entirely out of
jicama
, dying it with food coloring, and using it as the centerpiece for a shredded veggiesalad.
My first thought was: Why
Jar Jar
? Of all the cool Star Wars characters to choose from (my personal favorite was always
this one
, who can be seen in cake form
here
), Jar Jar Binks is totally the most annoying one. But the blogger explains:
Like just about every other kid growing up in the late twentieth century, I could never get enough of Star Wars. So it's no surprise that a grown-up Jedi-wannabe with a knack for the culinary arts would turn to Star Wars food carvings for entertainment.

There was just one problem… after hours of carving, I wasn't sure I'd be able to destroy my handiwork. After all, who wants to squash a sweet potato that's been lovingly crafted to look like Admiral Akbar? Or demolish a Daikon radish in the form of cult hero Boba Fett? Not me, that's for sure.

But what if I could create a Star Wars figure that I wanted to destroy? Surely then I'd be able to slice into it without remorse. Choosing a character did not turn out to be difficult.

Jar Jar Binks was easily the worst thing about The Phantom Menace. If I could create a scrumptious salad out of him and serve him up with a tasty crostini, perhaps I might have my revenge.

Jicama proved to be just the right medium for my sculpture — it's a tuberous root vegetable that is perfect for food carvings. It's crisp, cuts easily and doesn't dry out quickly. Jicama doesn't taste like much but readily absorbs the juices and flavors of a marinade or sauce.
Oh,
now
I get it. I don't think I'd want to spend hours carving one myself, but I suppose if a jicama Jar Jar Binks was presented to me, I might also find a little joy in slicing into his head and eating some. It's low carb, after all!